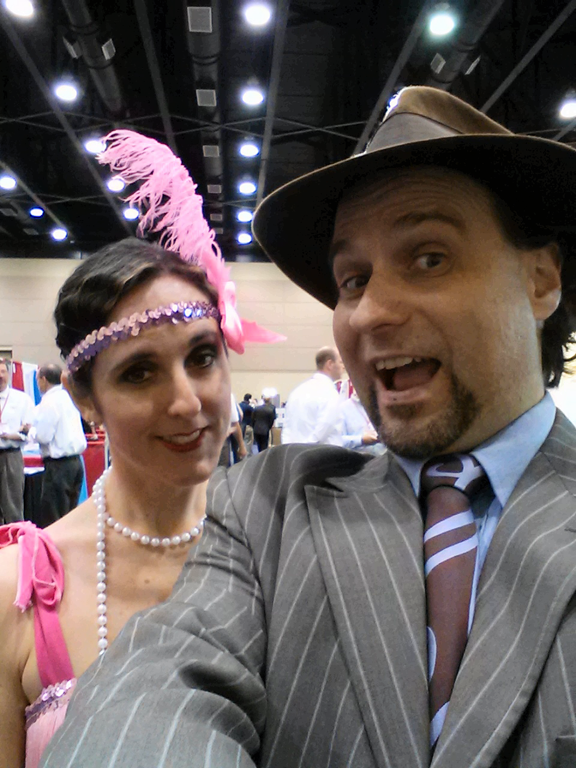 Jennifer Parker Scott and David Gold dressed up like people from the 1920's and handed it a special commemorative Hershey Bar celebrating the 95th Anniversary of D & H Distributing. We provided actors twice for their conference/exhibition in Hershey and Lancaster PA - June 2013!
At LetUsEnterTrainYou.com and Entourage Entertainment we have all shapes, sizes and looks of very TALENTED ACTORS who are willing to perform off-the-stage, as well as on!!! These actors can help you reach your goals and be truly successful with any promotional event, convention booth attraction, fundraiser, employee event or private party! The Sky is the Limit with RENT-an-ACTOR!!!
Great Uses for Rent-an-Actor
1. Have a colorful character - handout flyers at your place of business!
2. Have costumed actors drive attendees to your convention booth!
3. Create a festive atmosphere at your restaurant, hotel or business establishment!
4. Have actors making fun with your guests at an annual dinner, company picnic, charitable fundraiser or private party!
Our actors are skilled in interactive Murder Mystery Theater and are excellent at interacting and making fun with your patrons, guests, employees, attendees or customers. They are always fun and they are always professional!!!
We have had actors dress up like characters from various decades, historical figures, and or film characters.