This new Team Challenge will shift
your next company's conference into high gear!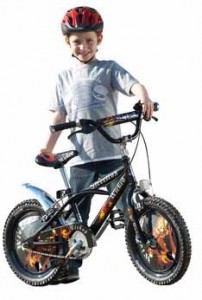 This Team Builder Offers Your Team…
 The ability to share ideas, communicate and work within the solution…
 A healthy spirit of corporate team values…
An opportunity to lend a hand, give back and pay it forward…
The power to infuse good corporate citizenship into the lining of your companies moral fabric.
"Assembling Bikes for Kids – Team Challenge", unites these fine corporate principals into a challenging, upbeat, and philanthropic team bonding experience. This program offers an excellent opportunity for companies to connect in a way they may have never connected before while you pay it forward.
The Object of the Game is…
To tackle varying scientific, creative & mental team challenges…
To purchase parts of the bikes & tools required for assemblage with your teams "Funny Money" winnings…
To assemble and decorate the bikes the quickest…
To pay it forward to underserved children of the community!!!
After all the bikes are completed the event steers to a climax with the enthusiastic anticipation one receives when giving to others, as you roll the bikes up to the precipice, the kids burst through the doors and your company presents them to the kids.  The room immediately fills with joy, excitement and goodwill, as the sweet faces of each child beams with happy smiles when they are presented with their very own… brand-spanking… new bike!!!
EVERYONE WINS with this very special Giving & Receiving Team Event from LETUSENTERTRAINYOU.COM!
CAUSE & EFFECT
GROUP SIZE
SPACE
TIME FRAME
SHARING IDEAS
COMMUNICATION
PROBLEM SOLVING
SOLUTION FINDING
CORPORATE VALUES
12 TO 350
LARGE AREA

INDOOR/OUTDOOR

 2.0 TO 3.0
HOURS
This team builder works well either
with or without a meal before or after the event.
Does this sound like a team building event your group would enjoy?
Get a quote today!