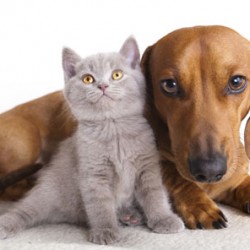 TeamBonding has the PURRRRRFECT new philanthropic event for your next corporate outing!
This very special team com-PET-tition pits teams against teams in several thematic PET-RIFIC CHALLENGES. This ultimately decides which teams get to choose their PET-SUPPLIES from the PET-STORE first so they may build their Pet-An-Thropic gifts.
In this doggie dash against time… you might not have nine lives, but your team will have loads of furry fun giving back to the canines and felines at an Animal Shelter of your choice.  Winners are chosen based on points from the challenges and on judging criteria from the pet crafts they have made based on functionality, aesthetics, creativity, use of materials, and team dynamics.
Animal Shelters need so much support today, to keep up with the increased pet populations nationwide and this event is the very im-Pet-tus to help them do that.  Your support gives these animals a new "leash" on life by building 1 dog bed, 1 tug toy (or more) and one cat scratch pad to be donated to the underserved pups and kitties of the world.  You can even opt to have your teams design and create specialized Pet Lover Gift Baskets filled with treats and toys for the soon-to-be- adopted dogs and cats at any given animal shelter you choose to donate to.
At the risk of being re-PET-titive… stop acting like a lost puppy or a crazy kitty and get your teams to join THE PAWS CAUSE and give back to this very special charity… There are plenty of bone-a-fits and you know they'll all have a meowing good time!!!
PROGRAM LENGTH:
Approximately 2 hours, depending on the size of the group
GROUP SIZE
15 – 1,000+. The larger the group, the more gifts you can make, so more abandoned pets will feel the love and warmth they are missing when visiting the shelter.
TEAM SIZE
6 to 10 people per team
TRAINING/DEBRIEF
This program can easily include a debrief by one of our experienced Facilitators. We'll be happy to customize your debrief to link the whole event (and the spirit behind it) to your organization's values, goals and culture.
IDEAL USE

Annual events
Company picnics
Community service days
Does this sound like a team building event your group would enjoy?
Get a quote today!