DIGITAL CAMERA SCAVENGER HUNTS
On Foot, by Limo, Van, or Public Transportation!
Great for – Companies, Bridal Parties, Fun-Raisers!!!
TAKE YOUR BEST SHOT … THE FRAME OF THE GAME
The game begins at a rallying point when your PHOTO FACILITATOR will iris your co-workers in and expose them to the thumbnail rules of the team building event. Each team pans out and thus sets the aperture for a great day of photos, focus, and fun!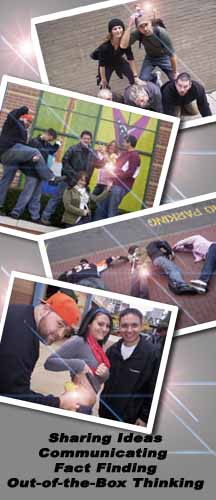 This Team Builder Offers Your Team…
An excellent event to break the ice…
A wonderful opportunity for them to let their hair down and have fun with each other…
A lighthearted way to learn about the benefit of working together…
We shutter at some of the crazy shots your teams might decide to take and we're sure they'll be in sharp contrast to each other.  Creativity and Out-of-the-Box thinking are paramount ingredients within this hunt!
Each team will get to…
Several creative photos based on our Pixel Point Scale…
Find objects for points like a traditional scavenger hunt…
Perform a team cheer, a rap or create super hero for extra bonus points…
The more creative the shot the higher the point values teams can receive!!!
The Object of the Game is to…
Take as many Photos as possible with the highest point values…
Find as many Scavenger Objects to raise scores…
Get lots of Bonus Points with the creative performance…
When teams come back to the set meeting place, their photos are downloaded to be viewed on the big screen, their Pixel Points are calculated, their Scavenger Objects are counted and their Getting' Creative Performance's judged.  All of those points are then tallied together to determine the Big Winner!!! Your company will also receive a copy of all the photos taken during the hunt in this fun team building event!
CAUSE & EFFECT
GROUP SIZE
SPACE
TIME FRAME
CAMARADERIE
TIME MANAGEMENT
COMMUNICATION
MULTI-TASKING
STRATEGY
8 TO 130
LARGE AREAINDOOR/OUTDOOR
2.0 TO 3.0
HOURS
This team builder works well either
with or without a meal before or after the event.
 Does this sound like a scavenger hunt your group would enjoy?
Get a quote today!