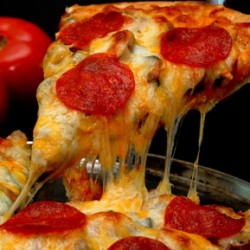 "When the moon hits your eye like a BIG PIZZA PIE… THAT'S AMORE."
EVERYBODY LOVES PIZZA!!! It seems to have become a National Past-time!!! We American's just can't seem to get enough of it and your team will just love this Pizza Lovers Food Fest and Challenge!!!
The Pizza Pie in the Sky- Pizza Cook-Off is truly a fun LetUsEnterTrainYou event and it has the best kind of Team Building properties… You learn to work together by doing something completely fun and different than you do at the office and you grow together from the experience, seemingly by osmosis!!!
THE PIZZA COOK-OFF CHALLENGE!!!
There are all styles of pizza… NYC, Chicago, California Detroit, St Louis, etc., etc., etc.! Your team gets to create their-own style of PIZZA! Each team works together to take the fresh ingredients we bring to each team table and craft a new-style pizza for us all to enjoy.  Teams will decide how they will make it and what toppings they want to use, from the many that will be provided, to make as a unique a pie as their culinary creative minds can craft!
ADDITIONAL TEAM CHALLENGES…
The group will be divided into smaller competitive teams of 4 to 8 participants depending on group size
Teams will do many challenges to compete for "funny money" so they can buy ingredients from our "PIE IN THE SKY PIZZA SHOP", All kinds of fun challenges both mental, creative and physical (easy physical challenges) that relate to PIZZA and its unique history are presented, so each team can raise the money to buy what they need so they then can raise the pizza dough!!!
Teams then will create a pizza that will be all their own and hopefully it will be a truly tasteful and memorable experience for all.
AS THE DOUGH RAISES AND THE CHEESE MELTS…
Each team will get to name their New Style Pizza, create a logo that will be highlighted on their Pizza Box.
They will also create a 30-second commercial telling us what makes their style pizza so unique and wonderful!
Teams will be subjectively judged on all of the above so they can receive additional points toward the ultimate goal of winning the Pizza Cook-Off.
One team will be our top winner as the "Pie In The Sky – Pizza Cook Off Challenge Winner"
Then it's time for the best part…. EVERYONE GETS TO…
MANGIA!!!
This event is Bellissimo!!!
PROGRAM LENGTH: Approximately 2 – 3 hours
GROUP SIZE: 8 – 300
TEAM SIZE: 3 – 10 people per team
SPACE REQUIREMENTS: 30 sq. ft. per person. The culinary program facilitator will contact the venue with details regarding the room layout and set-up.
IDEAL USE:
New project kickoffs
An excellent meal break during a conference
Pulling your team together
Does this sound like a team building event your group would enjoy?
Get a quote today!