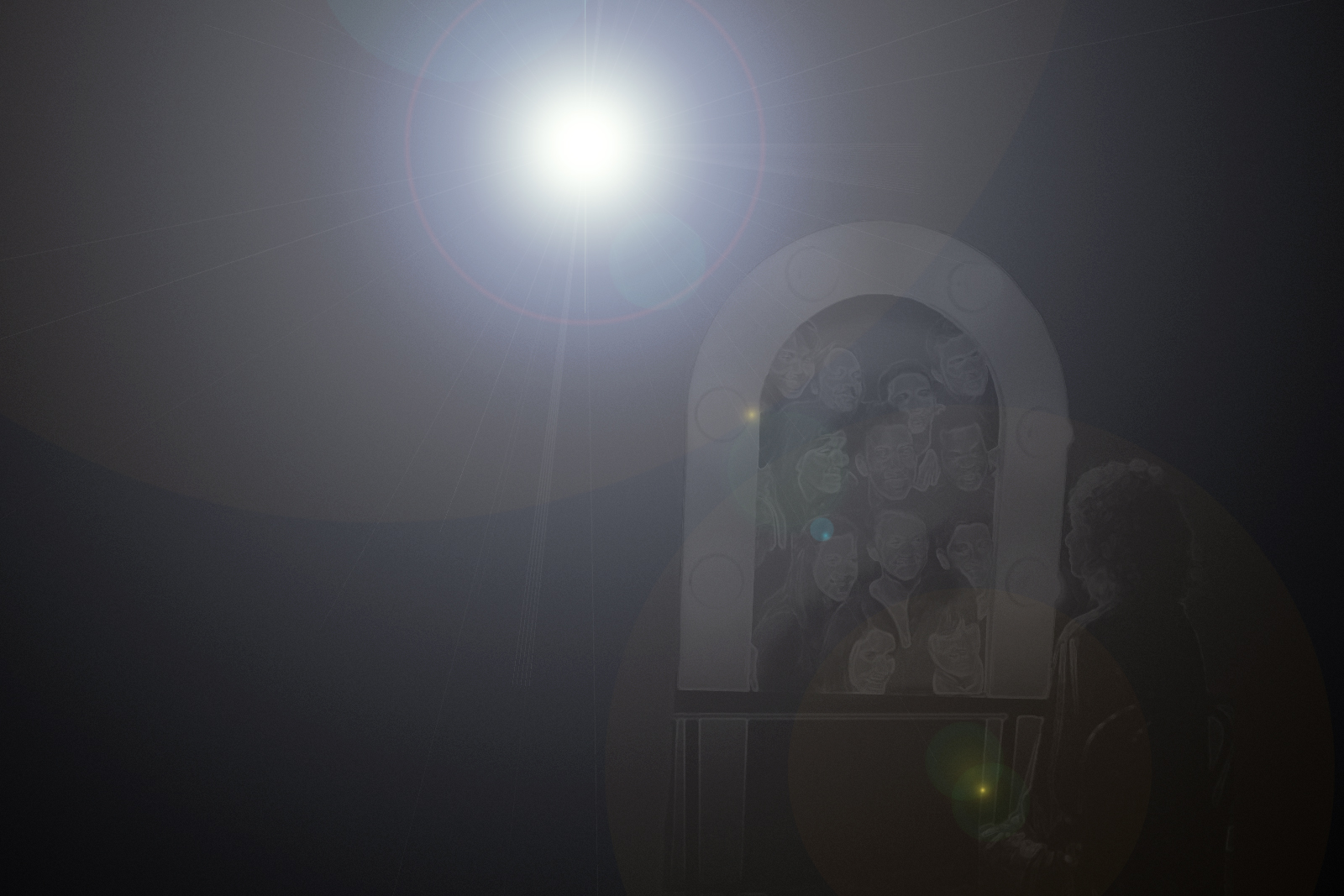 Cast, Music & Grand License
Cast the roles, explore the moving music, and deliver one of the finest shows about theatre today!
License Genesius – The Musical! for your very own non-profit community theatre.
Genesius – The Musical is now available for licensing
There are no deposits for scripts, vocal books, or orchestrations (8-piece orchestra) because we send it all to you electronically. Once you receive your Genesius the Musical materials, you can download, email, and print all materials, etc. Nothing to send or send back. All you pay us are the licensing fees. You can also get a Special License to videotape your production, for you theater's archive, of this very special musical about the very heart of the community theater.
Casting & Players

Cast Size: 18 players or greater.
(As written, but can be augmented to a larger cast by adding more "Kids", or by dividing the role of The Man amongst five actors.)

Cast Type – female star vehicle, older roles, and younger roles (ages 12-23)
Dance Requirement – standard (musical staging and some dance)

Character Breakdown:
JANE SIMMON MILLER – a vibrant, dynamic, charismatic woman in her early 40's. She has the ability to inspire the very best in people, especially young ones. Her energy and enthusiasm are contagious – very few are able to resist. Once she's on a "mission" she is unstoppable – willing to use any means to achieve the goal – including cajoling, flattering, brow-beating, guilt or sex. As a result people either adore her or despise her. There is, however, a warm vulnerable side to her as well, which can sometimes lead to heartache. She lives and works in the world of amateur community theatre, but is a consummate professional, and strives to instill this ethic in her "kids". (Strong belt/mix)

GRANT COLE – Jane's close friend and mentor. He taught her everything he knows about theatre, and never lets her forget it – all the while refusing to admit that she has surpassed him in all these things. He is pompous and effete – a mock sophisticate who likes to put on the very grand mantle of the old-time actor-managers. But he is also very insecure, and can become vicious if crossed. (Baritone)

FRED – another of Jane's close friends and her long-time, long-suffering stage manager. She is obviously in love with Jane, although it remains unspoken. She is funny, warm, boisterous, abrasive, and tough as nails. She is also extremely loyal and protective, and eventually becomes the mother-hen to all the "kids". She has seen Jane through lots of hard times and numerous affairs, but keeps coming back for more. (strong "country" belt)

THE MAN – (all of the following are played by the same actor) WALT – Jane's rather bland husband – her extreme opposite. Active in the local theatre scene, he prefers to stay in the background. A bit of a bumbler, but he means well. REDEVELOPMENT AUTHORITY GUY – a low-level, not very bright, political wonk. MR. GLOSSER – a kindly, older, local businessman and benefactor. FIRE MARSHAL – officious civil servant, but a marshmallow inside, especially when it comes to the ladies. SAMMY FIELDS – a booking agent for show bands. A bit sleazy, but basically honest. (this is a non-singing role)

THE KIDS: Even though they are frequently referred to as "Jane's Kids", these young people are mostly in their teens and twenties. Genesius was never a Children's Theatre.

DAVID McCLARY – age 20. He is a handsome, talented musician – very well-read, and quite intelligent, but very inexperienced in the ways of the world. Although he's a bit shy, reserved and even a bit geeky on the surface, Jane can sense a different, more outgoing person just waiting to burst forth. Starting out as her protégé and partner, he soon finds himself much more involved than he intended – or is able to handle. (strong pop tenor)

YOUNG JOEY – age 12. He is a young, cherubic and slightly pimply-faced boy who is having a rough turn at puberty. But, he possesses a savvy, street-smart sensibility that puts him ahead of his peers in many ways. He lives for the theatre and, although he has theatrical talents, no one can really pinpoint exactly what those talents are. He's desperate to become a ladies' man, but so far this goal has eluded him. As narrator of the musical, we tend to see things through his eyes. (unchanged boyish belt)

OLDER JOEY – age 18. See above…but even more obsessive about girls. He has by now become one of the stalwarts of Genesius. (Baritone/tenor)

KURT– age 17-19. Tall, dark and handsome, and very male. Trying hard to balance his conflicting passions for theatre and sports, he can be a bit defensive and a bit homophobic. His beautiful singing voice has been his claim to fame, and has helped him get girls, but has also made him the butt of a lot of jokes from the guys at school. Smart, affable and very direct. (strong tenor)

LUKE – age 21. At first glance his long-haired, grungy appearance and angry, sullen manner confirm his reputation as a spoiled-brat rich kid with a rap sheet. But there is a different person inside this shell. While most of the kids fear and distrust him, many of them also lust after him. He feels extremely out of place among the more flamboyant 'theatre types", but eventually becomes one of their heroes. (pop baritone)

DARYL– age 18-20. With his toothy grin, outrageous laugh, and wild, outgoing personality, Daryl is just plain fun. He is full of infectious energy and always on the lookout for the next possible female conquest. (baritone)

MONTY– age 17-19. Out and proud – at a time when that wasn't an easy thing to be. He has a scathing wit, and isn't afraid to use it. But he can also be a good, loving friend. (baritone/tenor)

PETER – age 16-17. Never stops dancing. He has an amazing talent, and wants everyone to know it. Spends most of his time trying to convince people he's not the typical dancer – i.e. gay. (also plays Jane's son, Tim)(baritone/tenor)

DENNY – age 18-21. Having apprenticed herself as Jane's assistant some years ago, she is, in essence, the "first kid". She is a bit of a tomboy and, although she longs to be like the other girls, her tart tongue and straightforward, no-nonsense attitude keep most of the boys at bay. Underneath she's shy and vulnerable, but she clearly rules the roost. (Strong belt, gospel style)

SNOOKY – age 13-14. A gawky, four-eyed, limp-haired, flat-chested waif, who idolizes the older girls. She is sweet, endearing, and sometimes blurts things out without much thought. She's not very talented, but she tries real hard. (belt/mix)

MARJORY – age 18-20. A sweet pretty girl with a peaches and cream complexion, she's probably the most talented of all the kids. She's good at comedy, drama, dancing, and has a terrific voice – the perfect ingénue. But, ironically, her severe lack of self-confidence continually overwhelms her. (also plays Jane's daughter, Mary)(soprano)

DEB – age 20-23. A free-loving hippy, she is very earthy and really in tune with her body. She is attractive – and knows it. Fun-loving with a caustic sense of humor. (belt, pop/rock style)

JENNIE - age 17-18. While she can be charming, persuasive and witty, Jennie is also very shallow, narcissistic, and a huge flirt. She loves to get her own way by acting helpless and ditzy, but she is definitely not stupid. She loves the boys and knows how to manipulate them. (belt/mix)

MARIANNE – age 17-20. Always keeps 'em laughing. Like most comedians, she uses humor to cover a number of issues. She is not good with the opposite sex because she's always cracking jokes. Very talented in an off-beat sort of way. (belt/mix)


Music & orchestrations

Orchestrations for Genesius – A New Musical! are available for rental in two sizes:

Three-piece Combo – Piano, Percussion, Bass (Acoustic and Electric).

Eight-piece Orchestra – Piano-conductor (Acoustic Piano or Synthesizer), Keyboard (Synthesizer), Violin, Trumpet, Trombone, Reed (doubles on Flute, Clarinet, Bass Clarinet, Alto Sax, Tenor Sax, Baritone Sax), Bass (Acoustic and Electric), Percussion.

Conductor/Keyboard: Michael O'Flaherty
Keyboard 2: William J. Thomas
Violin: Karen Fagerburg
Reeds: Liz Baker Smith
Trumpet: Mark Slater
Trombone: David Kayser
Bass: Christopher Conte
Percussion: Sal Ranniello
Recorded and Mixed by: Jay Hilton
Synthesizer Programming by: William J. Thomas
Music Copyists: Ian Schugel, Dan Pardo
Orchestrations: Michael O'Flaherty
Percussion arrangements: Brad Flickinger

Special Thanks For Cast Recording Support: Mark Modano, Donna Lynn Hilton, Jay Hilton and Goodspeed Musicals, Dan Pardo, Alyse Mitten at Interlace Communications, Sandy Solmon and Doug Messinger of Sweet Street Desserts, William Sanders and to all the casts who performed in Genesius-The Musical at Goodspeed Musicals, Civic Theatre of Allentown, NYC Actors Equity Showcase and both times at Genesius Theatre.



Grand License & Billing


Genesius – The Musical is now available for licensing. There are no deposits for scripts, vocal books, or orchestrations (8-piece orchestra) because we send it all to you electronically. Once you receive your Genesius the Musical materials, you can download, email, and print all materials, etc. Nothing to send or send back. ALL you pay us are the licensing fees. You can also get a Special License to videotape your production, for you theater's archive, of this very special musical about the very heart of the community theater.

"Genesius" can be presented with a full set or just set, furniture and costume pieces. It's not an expensive lighting, prop or costume show either. "Genesius" also has several roles for kids/teens aged 11 through 19 and the lead role of Jane is an excellent role for a mature woman in her 40's/50's. You can even add additional ensemble members if you wish.

For more information on Licensing, Pricing or if you wish to receive a Perusal Script, please write, L J Fecho at: ljfecho@fechoproductions.com. If you have additional questions you may also call
Mr. Fecho at 610-780-7627 Eastern Standard Time.

Royalty Fees: Please email LJ for fee information at: ljfecho@fechoproductions.com.
Pricing is based on:
• Number of seats
• Average of all ticket prices and number of performances
• Pricing is usually figured between 6 and 8 percent.

***If you prefer a "cleaner" more family oriented musical, we can also send you a script with the profanity and some of the sexual innuendo removed.***

Book by: L J Fecho
Music & Lyric by: Michael O'Flaherty

This musical is based on a true story. Jane Simmon Miller's dream of building a theatre where young folks could display their talents, hone their craft, and become better people along the way, is still being realized today. Genesius Theatre is approaching its 42nd season, as of this writing. That's forty-two years of staying alive against all odds. Forty-two years of producing show after show, some hits, some misses, but all from the heart. Forty-two years of mentoring hundreds of "kids", some of whom have Broadway aspirations, some of whom are content in Reading, Pennsylvania.
Contrary to conventional wisdom, the terms "amateur" and "professional" are not mutually exclusive, and the people who are still keeping Genesius alive are definitely professional – they just don't get paid.This show is dedicated to them, and to those who work at amateur theatre companies all over the world.

Billing:
You must give the authors/creators billing credits, as specified in the Production Contract, in a conspicuous manner on the first page of credits in all programs and on houseboards, displays and in all other advertising announcements of any kind.